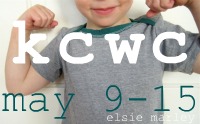 I found out about the Kids Clothing Week Challenge through a message board that I frequent. Basically - you have to sew for one hour each day for a week. Sewing all kids clothes. What is great about it is that it is not a strict play only by the rules type of thing. Sew for more than an hour, fine. Sewing less, A-OK. Sew "kinda" clothes, no problemo.
My goal this week is to make something new each day, and to make something for Lil J - he always get slighted lol.
Today, I decided to make a Ruffled Bonnet based on
The Ruffled Bonnet Tutorial
from
The Cottage Home
. She has lots of tutorials on her site, in fact - I used her Party Dress pattern for the Easter Dresses. The bonnet was super easy (and FAST) to make, I love it so much - I think I am going to make some for gifts!
So - here is my Day One Project
Ruffled Bonnet for Elsie