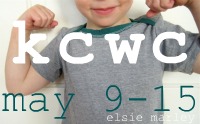 Today is day 2 of the KCWC. I actually made day two yesterday, but I will save that post for tomorrow.
Today I made new capris for Cora with a matching appliqued top. I bought this fabric not too long ago and LOVE it. It is so bright and cheery (is that a word?). I made a skirt for my niece and really wanted to keep it for Cora. No worries, I bought TONS of it. I will probably make a dress for Elsie with the same fabric.
I am really loving this challenge - it is helping me stick to my goal of doing more around the house and less PC time. Yes, I know - I am ON the PC lol. But, I am trying to spend less time - not NO time lol.
Anyway - I think they came out cute. But, I made some MAJOR mistakes on the pants. So major that I would have to start from scratch. So, I figured most people are not going to notice, and it is not like I am selling them. So, Cora will be wearing an oops pair of pants. Oh well.